Home
Talk

9
236pages on
this wiki
Welcome to K Project Wiki!
This is an extensive, ever-growing database dedicated to the K series by GoRA.
There are currently 236 pages and a circulating total of 17,199 edits.
Anyone is free to edit and help expand our knowledge of the series.
---
Featured Article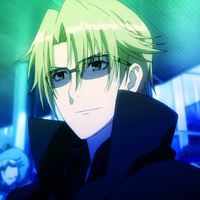 Izumo Kusanagi
Izumo Kusanagi (草薙出雲, Kusanagi Izumo) is a Clansmen of HOMRA and the owner of a local bar which his Clan was named after. Likewise, he is a bartender, though he appears to specialize as an underground informant for his Clan.
Kusanagi is a very composed individual, reacting calmly even in dangerous or extreme situations. He retains this trait even when in the midst of a battle. However, because of his nature, others often tend to be intimidated by him. Additionally, he is quite intelligent and knowledgeable of the people or things around him. Kusanagi tends to have a high amount of information on specific people's backgrounds and has been remarked for doing "shady" business with various associates, which is a primary attribute to his extensive knowledge of the matter.
During his teenage years, Kusanagi met Mikoto Suoh and eventually became his best friend. They regularly hung out at Kusanagi's bar HOMRA, which he bought with a large sum of money in his late teens.
Latest Episode
「K」
With the students of Ashinaka High School evacuated, Clansmen slowly gather around and retreat from their battles. Yashiro Isana faces the Colorless King alone before then heading out to the battlefield of the two Kings, Mikoto Suoh and Reisi Munakata. However, it could be that he will create more trouble than the Kagutsu Crater incident, just from interfering.
Latest Chapter
「K: Memory of Red」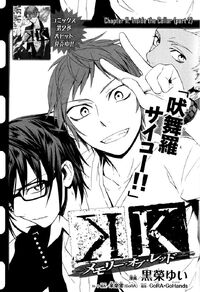 Trapped in a dark basement together, Yata and Fushimi scavenge through the unknown depths and try to escape back to the surface. Along the way, they reminisce over their past friendship and time spent as comrades, particularly Yata. This former alliance is then put to a test when their target suddenly attacks the both of them while they are all still trapped.
---
「K: Stray Dog Story」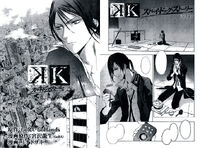 Kuroh Yatogami finally makes it into Shizume City where he officially begins his search for the current Colorless King. He soon discovers that another organization, HOMRA, is after the same target; apparently, one of their own Clansmen has been murdered by the Colorless King himself. Kuroh's motivation rises as he nears his meeting with the man on his death wish.
Featured Quote
"
You hear that, Mikoto? You were the best King we could have asked for.
"

–Izumo Kusanagi, thinking about Mikoto Suoh.
Featured Picture
Poll
Which Character Song Is Your Favorite?
Previous Poll
Do You Want A Season 2?
| Rank | Poll | Votes | Percentage |
| --- | --- | --- | --- |
| 1st | Yes. | 2923 | 98.65% |
| 2nd | Neutral. | 25 | 0.84% |
| 3rd | No. | 15 | 0.51% |
©GoRA GoHands/K-project ©Copyright King Record.Co.,Ltd All Right Reserved.