Home
Talk

9
255pages on
this wiki
Welcome to K Project Wiki!
This is an extensive, ever-growing database dedicated to the K series by GoRA.
There are currently 255 pages and a circulating total of 19,716 edits.
Anyone is free to edit and help expand our knowledge of the series.
---
Featured Article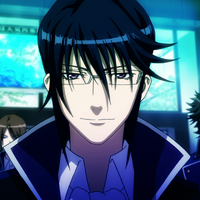 Reisi Munakata
Reisi Munakata (宗像礼司, Munakata Reisi) is the Captain of Scepter 4, and the Blue King.
Munakata leads Scepter 4 into a hotel suite within Shizume City, preparing to face off against HOMRA with swords. He initially engages in battle against their leader, Mikoto Suoh, but instead tries a more peaceful approach. He declares that he will apprehend Mikoto and asks whether he will resist. When his question is answered, Munakata locks him up in one of Scepter 4's cells.
Later, Munakata goes to visit Mikoto in his cell, accusing him of distributing the video of Tatara Totsuka's murder across the network. Munakata softly states that he should find a way to lock up Mikoto forever. He is told that it is possible if he can monitor and confine the man himself alone. Munakata concludes that he cannot and leaves Mikoto.
Latest Episode
「K」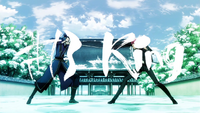 With the students of Ashinaka High School evacuated, Clansmen slowly gather around and retreat from their battles. Yashiro Isana faces the Colorless King alone before then heading out to the battlefield of the two Kings, Mikoto Suoh and Reisi Munakata. However, it could be that he will create more trouble than the Kagutsu Crater incident, just from interfering.
Latest Chapter
「K: Memory of Red」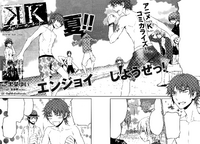 Now summer time, all of the HOMRA members have a day out at the beach. Chitose and Bandō make attempts to score girls but ultimately fail, due to the apparent charms coming from their other Clansmen. Later, after hearing about a grimly tale regarding a young boy's death, they all decide to see whether there is a ghost lurking around the beach. It soon becomes evident that there is someone visiting during the night.
---
「K: Stray Dog Story」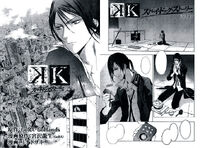 Kuroh Yatogami finally makes it into Shizume City where he officially begins his search for the current Colorless King. He soon discovers that another organization, HOMRA, is after the same target; apparently, one of their own Clansmen has been murdered by the Colorless King himself. Kuroh's motivation rises as he nears his meeting with the man on his death wish.
Featured Quote
"
It's warm next to you. It's the only warm place.
"

–Anna Kushina to Mikoto Suoh.
Featured Picture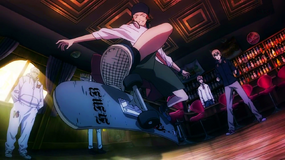 Poll
What Do You Think Of The English Dub?
Previous Poll
What Is Your Favorite K-Project Adaption?
| Rank | Poll | Votes | Percentage |
| --- | --- | --- | --- |
| 1st | Anime | 350 | 78.30% |
| 2nd | Manga (Memory of Red) | 78 | 17.45% |
| 3rd | Novels | 6 | 1.34% |
| 5th | Manga (Stray Dog Story) & Radio Drama | 5 | 1.12% |
| 6th | Side Stories | 2 | 0.45% |
| 7th | Radio | 1 | 0.22% |
| 7th | Video Game | 0 | 0 |
©GoRA GoHands/K-project ©Copyright King Record.Co.,Ltd All Right Reserved.